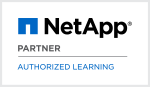 NetApp Certified Data Administrator, ONTAP (NCDA)
NetApp Certified Data Administrators have proven skills in performing in-depth support, administrative functions, and performance management for NetApp storage controllers running the Data ONTAP® operating system in NFS and Windows® (CIFS) multiprotocol environments. They are able to implement high availability controller configurations. They also have detailed knowledge of SnapMirror®, SnapRestore®, and SnapVault®, which they use to manage and protect mission-critical data.
Prerequisites
Candidates for NCDA (NetApp Certified Data Administrator) certification should have at least six to 12 months of field experience implementing and administering NetApp® data storage solutions in multiprotocol environments. In addition, candidates taking the NetApp Certified Data Administrator, ONTAP exam should know how to implement HA controller configurations, SyncMirror® software for rapid data recovery, or ONTAP® solutions with either single- or multi-node configurations.
Recommended training for this certification
Exams
NS0-160 NetApp Certified Data Administrator, ONTAP