AWS Certifications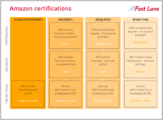 Certification Levels
AWS offers 3 levels of certification: from Foundation, the basic level of certification, to the more advanced level of Associate, up to Professional, the highest certification level.
Certification Roles
Certification can be attained for four roles: Cloud Practitioner, Architect, Developer and Operations.

An overview of the AWS certifications
AWS Specialty Certifications
AWS Training Paths
Further Information
Would you like to know more about AWS Training and Certifications? Feel free to send us an email or call us on +44 800 470 1000. We'd be glad to assist!