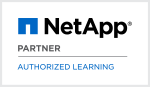 Storage System Recovery & Troubleshooting for Partners (SSRTS)
Course Overview
In this course, you learn about the recovery of offline systems. You learn some of the reasons that systems go offline, including hardware causes and extraordinary circumstances. You also learn about data inconsistency issues and how to resolve the issues. This course does not cover platform-specific content.
* Please note this is a NetApp Partner only course *
Who should attend
Partner Only course so expected audience to be Partners in the hardware specialty who are ready to resolve catastrophic hardware and core cases.
Prerequisites
Level 1 Partner Training
Clustered Data ONTAP Administration
A minimum of six months' familiarity with supporting current NetApp hardware
Course Objectives
This course focuses on enabling you to do the following:
Bring a hard-down system online, with data intact
Eliminate repeat system panics and boot loops on problematic systems
Restore stability to unstable customer environments
Identify irregularities in the storage controller boot sequence
Demonstrate the steps required to perform a nondisruptive upgrade
Create an action plan to resolve hardware issues
Demonstrate the steps used to recover a deleted volume
Demonstrate the steps to create a new root aggregate
Describe the differences between wafliron and wafliron –o
Explain how to use the WAFL recovery tools
Classroom Training
Duration 3 days
Price
(excl. VAT)
United Kingdom:

£ 2,364.-

NetApp Training Units:

36 NTU




NTU's may not have the same redemption value if used in a country other than where they were purchased.