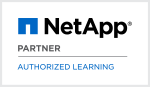 ONTAP NFS Administration (NFSAD)
Course Overview
Cluster Administration course. This course reviews NFS and explores in more detail different NFS versions and the features of ONTAP 9 software that support the NFS protocol. The exercises are accomplished using ONTAP 9 software.
* SPECIAL OFFER*
Tired of sharing your labs? Take this course with Fast Lane and experience 1:1 student to lab ratio.
Who should attend
Professionals who implement NFS solutions who use NetApp storage systems
Prerequisites
ONTAP Cluster fundamentals
Familiarity with UNIX and Linux operating systems
Course Objectives
This course focuses on enabling you to do the following:
Define and describe NFS protocol versions
Configure clustered ONTAP 9 for NFSv3,NFSv4,and NFSv4.1 with parallel NFS (pNFS)
Configure Kerberos in a Linux and NetApp ONTAP 9 environment using Windows Active Directory authentication
Discuss performance management and troubleshooting for Netapp storage systems and clients
Classroom Training
Duration 1 day
Price
(excl. VAT)
United Kingdom:

£ 788.-

NetApp Training Units:

12 NTU




NTU's may not have the same redemption value if used in a country other than where they were purchased.
Enroll now