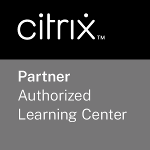 Citrix Virtual Apps and Desktops 7 Assessment, Design and Advanced Configuration (CWS-415)
Course Overview
This advanced 5-day training course teaches the design principles for creating a Citrix Virtual Apps and Desktops virtualization solution. In this training, you will also learn how to assess existing environments, explore different scenarios, and make design decisions based on business requirements.
This course covers the Citrix Consulting approach to design and covers the key design decisions through lectures, lab exercises, and interactive discussions. You will also learn about additional considerations and advanced configurations for multi-location solutions and disaster recovery planning. This training will help you prepare for the Citrix Certified Expert in Virtualization (CCE-V) exam.
This course is currently on Citrix Virtual Apps and Desktop 7 1906
Citrix course materials are only available to delegates in e-courseware format. Delegates will be provided with instructions on how to access their e-courseware on day one of the event. Those delegates who are attending via either virtual or extended classroom will be required to provide either three monitors (to view courseware, labs and instructor demos simultaneously) or two monitors and a mobile device. Delegates will be required to have an active TCC (Training.Citrix.com) account in order to access course materials and labs.
Please set up Your TCC account up in advance of the course using the following link: Citrix.com
Please note: It is highly recommended that the delegate uses a personal email address (rather than company email) to set up their TCC account. If you do not wish to reference your company name when setting up your TCC account we recommend you use 'EDUCALC' as reference.
Should you encounter any issues in setting up your TCC account please ensure that you raise this directly with Citrix in advance of your event by visiting Citrix.com then on the home page click, Help, then select Classroom Support, and submit a Critical or High priority request notifying Citrix of the course start date.
Who should attend
Built for IT Professionals with significant experience with Citrix Virtual Apps and Desktops 7 as well as supporting infrastructure. If you are responsible for the environment design and overall health, or are guiding others through the process (as a consultant), you should consider taking this training.
Prerequisites
This course requires extensive experience with Citrix Virtual Apps and Desktops 7 as well as experience with Citrix Gateway and supporting infrastructure.
Course Objectives
Delegates will learn to;
Identify risks and areas for improvement in a Citrix Virtual Apps and Desktops environment by assessing relevant information in an existing deployment
Determine core Citrix Virtual Apps and Desktops design decisions and align them to business requirements to achieve a practical solution
Design a Citrix Virtual Apps and Desktops disaster recovery plan and understand different disaster recovery considerations
Online Training
Duration 5 days
Classroom Training
Duration 5 days
Price
(excl. VAT)
United Kingdom:

£ 2,975.—
E-Learning
Duration 90 days
Buy E-Learning
Schedule
This course is guaranteed to run. Please see our complete
terms and conditions
for full details of this offer.
Instructor-led Online Training: This computer icon in the schedule indicates that this date/time will be conducted as Instructor-Led Online Training.
This is a
FLEX
course, which is delivered both virtually and in the classroom. Please note, local pricing is applicable.