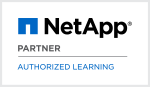 ONTAP MetroCluster Installation (MCCIIW)
Course Overview
MetroCluster software is a unique high-availability and disaster-recovery solution. In this advanced course, you learn how to install, configure and administer a MetroCluster environment. Hands-on labs, available in the ONTAP 9 environment, allow you to practice setting up the configuration, identify component failures and practice recovery steps.
Who should attend
NetApp employees, partner professional service implementation engineers and customers
Course Objectives
By the end of this course, you should be able to:
Describe the major architectural components of a MetroCluster environment in ONTAP 9
Cable nodes, back-end FC switches and FibreBridge devices
Set up bridges and back-end FC switches
Configure the clusters at both sites in a MetroCluster environment
Set up a MetroCluster configuration and serve data to clients
Detect and recover from failures in a MetroCluster environment
Install and configure Tiebreaker software
Classroom Training
Duration 2 days
Price
(excl. VAT)
United Kingdom:

£ 1,576.-

NetApp Training Units:

24 NTU




NTU's may not have the same redemption value if used in a country other than where they were purchased.