Cisco Learning Credits
Using Cisco Learning Credits with Fast Lane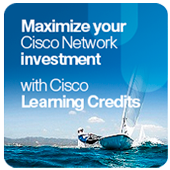 Fast Lane is the leading Cisco Learning Solutions Partner that can offer you the entire Cisco training curriculum, from entry-level to specialised high-end courses.
Cisco Learning Credits are a convenient and efficient way to purchase and manage Cisco authorised training. They enable customers to increase productivity and improve network optimisation while safeguarding training budget and monitoring training expenditures. Fast Lane provides a complete Cisco training portfolio covering the Borderless, Collaboration and Data Centre Architectures.
Value and Timeframe
A Cisco Learning Credit is worth $100 USD toward training and is valid for one year.
Learning Credits are redeemable only after they have been credited to the user account. This is usually after all equipment on order ships and is invoiced.
Redemption
You can redeem credits through Fast Lane, as a participating Cisco Learning Solution Partner. Courses must begin before the credits expire. Learning Credits must be redeemed in the currency in which they were purchased.
Fast Lane can actively manage the utilization of Cisco Learning Credits with the end customer. This ensures that credits are used up within the one year time frame. Your Fast Lane account manager will liaise with the Cisco Account Manager to advise on what training has been taken by the end user and provide course feedback.
Customer Benefits
Secures Training Budget
Increases Productivity and Technical Competency
Ensures highest quality of training, through Fast Lane as an authorized Cisco Learning Solution Partner
Simplify PO Process. Administrative costs decreased by reducing need to open multiple POs
Learning Credits Management Tool, provides a single location to manage and track the Cisco Learning Credits
Why Use Fast Lane?
Fast Lane is the Cisco European Learning Partner of the Year for 2009, 2010 and 2011!
Fast Lane is the only Cisco Learning Solutions Provider offering 7 Cisco Training Specialisations:
Advanced Security
Advanced Wireless LAN
Advanced Routing and Switching
Advanced Data Centre Storage Networking
Advanced Data Centre Network Infrastructure
Advanced Unified Communications
UCS Special Practice
Fast Lane delivers training across all of Cisco's Global Theatres with training centres in 65 countries and offers training for all of the Cisco product range in all Architectures.
Fast Lane can work with you to work out the right amount of Learning Credits needed for your training requirements. This is by way of trainer engagement to look at what is being proposed, what is the existing skill set and what does the end client need the Cisco equipment to do. This helps guarantee customer ROI.
As well as our comprehensive global Public Schedule of Cisco training courses Fast Lane can tailor courses to meet specific requirements and deliver training at the customer site, remote locations, Cisco offices and our own training centres.
In the UK and Ireland Fast Lane delivers training from 18 centres. These cover all regions and include the major towns and cities; Exeter, Bristol, Manchester, Reading, Windsor, Swindon, London, Birmingham, Leeds, Washington, Glasgow, Edinburgh, Dublin and Belfast.
Customers can redeem Cisco Learning Credits with Fast Lane and choose from any of our Cisco courses on offer.
For more information
Contact the Client solutions Team by email or 0845 470 1000.