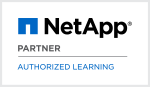 NetApp NCIE SAN Bootcamp (SANNCIE)
* SPECIAL OFFER *

FREE Web Based Training covering the pre-requisite modules that support this course

FREE certification exam voucher when you purchase this course from Fast Lane

Who should attend
This course is not an entry-level course. It is designed for individuals who meet the prerequisites and who want to successfully complete the NCIE-SAN exam and professionals who implement SAN solutions that use NetApp storage systems.
Certifications
This course is part of the following Certifications:
Prerequisites
Delegates should be certified as a NetApp Data Management Administrator or have completed the following courses:
SAN Fundamentals on Data ONTAP WBT
AND either:
!

NA-D7ADM) or

!

NA-ANCDABC87 or

!

NA-CDOTDP or
Clustered Data ONTAP 8.2 Administration
Course Objectives
By the end of this course, you should be able to:
Describe the three types of SANs that NetApp supports: FAS SANs, E-Series SANs, and V-Series SANs
Explore the storage architectures for Data ONTAP and SANtricity software
Examine the basic configuration of a FAS Data ONTAP SAN
Investigate an E-Series array SAN with SANtricity
List the supported configurations for a V-Series SAN
Describe solution scenarios that are better supported on a FAS SAN, an E-Series SAN, or a V-Series SAN
Define and describe SANs that use FC, FCoE, and iSCSI protocols
Configure Windows Server 2012, Red Hat® 6.4, and Data ONTAP® systems for iSCSI connectivity
Configure Windows Server 2012, Red Hat 6.4, and Data ONTAP systems for FC and FCoE connectivity
Use FC and iSCSI protocols to create and access LUNs from Windows Server 2012 and Red Hat 6.4 systems
Install and use SnapDrive® for Windows and SnapDrive for Linux software to create LUNs and Snapshot™ LUNs, to restore LUNs from Snapshot copies, and to remove LUNs
Size, clone, back up, and recover LUNs on Windows Server 2012 and Red Hat 6.4 systems
Troubleshoot SAN connectivity and performance issues
Classroom Training
Duration 5 days
Price
(excl. VAT)
United Kingdom:

£ 3,940.-

NetApp Training Units:

60 NTU




NTU's may not have the same redemption value if used in a country other than where they were purchased.