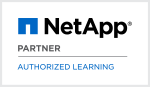 Integrating Hybrid Clouds with NetApp Data Fabric (INTHCDF)
Free Exam voucher provided when booking this course. These vouchers are intended for learners who successfully complete the courses and can be used to take the NetApp certification exam through Pearson VUE.
Who should attend
NetApp Employees, Partners and Customers
Certifications
This course is part of the following Certifications:
Prerequisites
Basic computing networking knowledge
NDCA Certifiaction or equivalent knowledge
Cloud Fundamentals
Course Objectives
This course focuses on enabling you to do the following:
Explain the value of the Data Fabric and NetApp Private Storage for Cloud (NPS for Cloud)
Describe NetApp Private Storage (NPS) networking requirements
Deploy a hybrid cloud for customers
Configure an Amazon Virtual Private Cloud (VPC) environment and an Azure Virtual Network (VNet) environment for the hybrid cloud
Use Windows PowerShell in a Data Fabric environment and extend customers' Microsoft Active Directory into the cloud
Explain the features of NetApp Cloud Volumes ONTAP software and NetApp ONTAP Select software
Use NetApp Cloud Central to deploy OnCommand Cloud Manager and Cloud Volumes ONTAP
Create SnapMirror relationships between Cloud Volumes ONTAP and ONTAP in the data center
Use the Cloud Sync service to synchronize NFS data between onpremises storage and cloud-based storage
Follow On Courses
Course Content
This course familiarizes you with NetApp hybrid cloud, Microsoft Azure, and Amazon Web Services (AWS) solutions and shows you how to weave the solutions into the Data Fabric powered by NetApp. In numerous exercises, you use NetApp tools and third-party tools to practice how to manage, move, and protect data throughout the cloud.
Classroom Training
Duration 3 days
Price
(excl. VAT)
United Kingdom:

£ 3,152.-

NetApp Training Units:

48 NTU




NTU's may not have the same redemption value if used in a country other than where they were purchased.
Enroll now
Online Training
Duration 4 days
Price
(excl. VAT)
United Kingdom:

£ 3,152.-
Enroll now