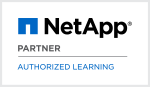 Implementing and Administering the FlexPod Solution (FPIMPADM)
Course Overview
FlexPod Implementation and Administration is a 3-day instructor-led course where you will learn to set up, configure and administer the FlexPod architecture. The course provides a comprehensive understanding of the configuration requirements for FlexPod at the network, storage and compute layers of the architecture. You will also learn key implementation procedures, management and basic troubleshooting tasks on the Cisco Nexus 9372, Cisco Unified Computing System (UCS) and NetApp storage.
Updated features:
Cisco Nexus 9372
Cisco UCS Director / Cisco UCS Central
OpenStack
Hyper-V
* SPECIAL OFFER*
Sign up for this 5 day course and receive a FREE voucher for the certification exam. (The exam must be taken within 6 months from the start date of the training.) This offer applies to both public and private onsite sessions.
Who should attend
The primary audience for this course is as follows:
Network engineers, Network administrators, System engineers and Server administrators
Certifications
This course is part of the following Certifications:
Prerequisites
The knowledge and skills that a learner must have before attending this course are as follows:
General knowledge of networking technologies
CCNA / CCNP Data Center recommended
Basic understanding of NetApp storage operations; NetApp NCDA is recommended
Basic knowledge of server and server virtualization technologies such as VMware ESXi
Course Objectives
Upon completing this course, the learner will be able to meet these overall objectives:
Describe the FlexPod solution
Describe the deployment use case
Describe network features
Describe storage networking features
Describe NetApp key features
Describe Cisco UCS compute
Describe compute node LAN connectivity
Describe identity, resource pools and policies
Describe service profiles and templates
Describe hypervisor and application solutions
Describe management and troubleshooting tools available for FlexPod components
Classroom Training
Duration 3 days
Price
(excl. VAT)
United Kingdom:

£ 2,304.-

NetApp Training Units:

36 NTU




NTU's may not have the same redemption value if used in a country other than where they were purchased.

NetApp Training Units:

36 NTU
Enroll now