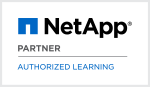 NCDA Boot Camp (NCDABC)
Course Overview
This 10-day boot camp will prepare you to pass the NetApp NSO 154 certification exams.
The hands-on course covers the required knowledge from the following courses:
Data ONTAP 7-Mode Administration (D7ADM)
Data ONTAP CIFS Administration (CIFS)
Data ONTAP NFS Administration (NFS)
NetApp Protection Software Administration (NPSA8)
Data ONTAP SAN Administration (SAN)
High Availability (HA)
Who should attend
Network Professionals seeking the NetApp Certified Data Management Administrator (NCDA) certification.
This course is also valuable for those who need to perform in-depth support, administrative functions, and performance management for environments using any of the following enterprise storage solutions: CIFS, NFS, FCP, iSCSI protocols on a NetApp storage appliance running the Data ONTAP operating system.
Prerequisites
Introduction to NetApp Products Web Based Training
Course Objectives
State the advantages, features, and functions of a NetApp storage system
Identify the key features of NetApp product platforms and disk shelves
Distinguish between SAN and NAS topologies
Describe the basic functions of the Data ONTAP operating system
Access the NOW (NetApp on the Web) Knowledgebase to obtain software and hardware documentation
Implement NetApp HA solutions using Clustered Failover, SyncMirror, and MetroCluster to ensure continuous data availability in the enterprise and rapid recovery of data in the event of a disaster
Learn to license, cable, configure, and test Clustered Failover, SyncMirror, and MetroCluster
Learn how to administer NetApp clusters and perform appropriate takeover and giveback commands
Use vol commands to create a SyncMirrored volume, split the volume, and join the volume
Identify the appropriate CIFS server environment for your storage system to support Windows client users
Configure the CIFS environment on a storage system by licensing CIFS, setting up CIFS, and configuring files and options
Administer a storage system in a CIFS environment including creating and managing shares, users, groups, and sessions
Explain how to troubleshoot basic CIFS problems
Define the characteristics of a SAN environment and how LUNs relate to the storage system
Describe the components of FC and IP SANs
Describe size planning requirements for LUNs
Create and manage LUNs on a storage controller for both Windows and UNIX hosts
Explain FC and IP SAN multipathing options for Windows and UNIX operating systems
Explain how to troubleshoot common SAN issues
State the rules for exporting resources to hosts, subnets, and netgroups
Explain the /etc/ exports access options and how they relate to mount permissions
Analyse NFS performance using sysstat and nfsstat commands
Explain NFS protocol overview, NFS versions, and NFS Implementation criteria
Configure and administer clients and servers in an NFS environment
Collect and analyse data to assist with troubleshooting storage system hardware, operating system, network connections, NFS configuration files and options
Explain the concept of Information Lifecycle Management (ILM)
Set up and maintain SnapShots
Plan and perform data recovery using SnapRestore
Configure and administer Asynchronous and Synchronous SnapMirror
Configure and administer SnapVault
Configure and administer OSSV
List best practices and perform troubleshooting of SnapMirror, SnapVault, and OSSV
Use NDMP to archive data
Configure and administer SnapLock and LockVault
Classroom Training
Duration 10 days
Price
(excl. VAT)
United Kingdom:

£ 7,680.-

NetApp Training Units:

120 NTU




NTU's may not have the same redemption value if used in a country other than where they were purchased.
Enroll now
Online Training
Price
(excl. VAT)
United Kingdom:

£ 7,680.-
Enroll now