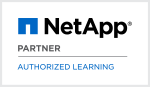 MetroCluster & High Availability (METRO)
Course Overview
This course delivers the student with skills to successfully install, configure and administer a NetApp Fabric Attached MetroCluster within a 7-mode environment.
Who should attend
Administrators, Support staff and SAN-Administrators responsible for the implementation and the management of a NetApp Cluster solution over long distance.
Prerequisites
!

NA-D7ADM
Basic skills in High Availability solutions
Course Objectives
By the end of this course, you will have learnt:
Fibre Channel Fabric Basics
Analysis of existing Storage systems
Configuration of the components
Installation of a Cluster & Cabling
SnapMirror Configuration & Administration
Failover scenarios
Disaster Recovery
Troubleshooting in MetroCluster environments
Classroom Training
Duration 2 days
Price
(excl. VAT)
United Kingdom:

£ 1,536.-

NetApp Training Units:

24 NTU




NTU's may not have the same redemption value if used in a country other than where they were purchased.
Enroll now
Online Training
Price
(excl. VAT)
United Kingdom:

£ 1,536.-
Enroll now