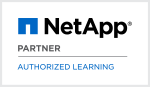 CommVault IntelliSnap for NetApp (CIFN)
Who should attend
This course is designed for customers, NetApp Professional Services, partners, and Customer Success engineers.
Prerequisites
You should be familiar with the CommVault IntelliSnap for NetApp Solution
Course Objectives
Manage the essential CommCell components: resource pools, storage virtual machine (SVM) peers, and disk libraries
Configure CommVault IntelliSnap for NetApp software to back up and restore volumes and directories on NAS servers
Back up and restore SQL Server databases
Back up and restore Microsoft Exchange mailbox servers
Back up and restore virtual machines
Update the CommCell to the latest CommVault IntelliSnap for NetApp service pack
Perform CommCell management tasks
Course Content
This 2 day course prepares you to operate a NetApp® CommVault IntelliSnap for NetApp® CommCell with the following clients: NAS, Microsoft SQL, Microsoft Exchange, VMware® vCenter and other virtual server clients. The administrative best practices for trouble-free operation are emphasized throughout the course.
Classroom Training
Onsite
Duration 2 days