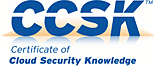 Cloud Computing Security Knowledge - Basic (CCSKB)
Course Overview
There is a lot of hype and uncertainty around cloud security, but this class will slice through the hyperbole and provide students with the practical knowledge they need to understand the real cloud security issues and solutions. The Cloud Computing Security Knowledge- Basic class provides students a comprehensive one day review of cloud security fundamentals and prepares them to take the Cloud Security Alliance CCSK certification exam. Starting with a detailed description of cloud computing, the course covers all major domains in the latest Guidance document from the Cloud Security Alliance, and the recommendations from the European Network and Information Security Agency (ENISA). This class is geared towards security professionals, but is also useful for anyone looking to expand their knowledge of cloud security.
Who should attend
This class is geared towards security professionals, but is also useful for anyone looking to expand their knowledge of cloud security.
Prerequisites
A basic understanding of security fundamentals, such as firewalls, secure development, encryption, and identity management.
Course Content
Module 1: Introduction to Cloud Computing. This module covers the fundamentals of cloud computing, including definitions, architectures, and the role of virtualization. Key topics include cloud computing service models, delivery models, and fundamental characteristics. It also introduces a model for assessing the risk of moving to the cloud.
Module 2: Creating and Securing a Public Cloud Instance. This modules digs into the details of the different cloud delivery models and their basic security issues. Students will learn the differences between security responsibilities for SaaS, PaaS, and IaaS, and key questions to ask a potential provider. The instructors will also demonstrate creating and applying security to a simple cloud instance on IaaS.
Module 3: Managing Cloud Security and Risk. This module covers important considerations for managing security for cloud computing. It begins with risk assessment and governance, then covers legal and compliance issues, such as discovery requirements in the cloud. It finishes with a discussion or portability and interoperability and managing incident response when working with cloud providers.
Module 4: Securing Public Cloud Data. One of the biggest issues in cloud security is protecting data. This module covers information lifecycle management for the cloud and how to apply security controls, with an emphasis on public cloud. Topics include the Data Security Lifecycle, cloud storage models, data security issues with different delivery models, and managing encryption in and for the cloud.
Module 5: Securing Cloud Users and Applications. This module covers identity management and application security for cloud deployments. Topics include federated identity and different IAM applications, secure development, and managing application security in and for the cloud.
Module 6: Creating and Securing a Private Cloud. In this module we move from the public cloud to the private cloud. Although we tend to have more control over private clouds, that doesn't mean they are immune to security issues. Topics include security risks of private clouds, and the management and security tools available to mitigate them.
Classroom Training
Duration 1 day
Price
(excl. VAT)
Enroll now
Online Training
Duration 1 day
Price
(excl. VAT)
Enroll now