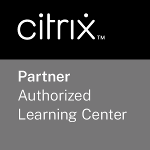 Moving to the Citrix Virtual Apps and Desktops Service on Citrix Cloud (CXD-250)
Course Overview
Learn how to navigate the move from Citrix Virtual Apps and Desktops 7.1x on-premises to Citrix Virtual Apps and Desktops Service on Citrix Cloud. Get hands-on as the course guides you through the architecture, communications, Management, installation, and configuration of Citrix Cloud and the Cloud Connector. Learn about the services available in Citrix Cloud with a focus on the Citrix Virtual Apps and Desktops Service. If you are planning a move to Citrix Cloud or starting out anew, this course is a necessary step in enabling you with the right training and skills to understand, manage, and deliver successfully. In this course you will not only learn how to migrate from an onpremises solution to using the Citrix Cloud management plane, but also considerations for moving workloads to public clouds.
Citrix course materials are only available to delegates in e-courseware format. Delegates will be provided with instructions on how to access their e-courseware on day one of the event. Those delegates who are attending via virtual classroom will be required to provide either three monitors (to view courseware, labs and instructor demos simultaneously) or two monitors and a mobile device.
Delegates will be required to have an active TCC (Training.Citrix.com) account in order to access course materials and labs. Please set up Your TCC account up in advance of the course using the following link - Citrix.com
Please note: It is highly recommended that the delegate uses a personal email address (rather than company email) to set up their TCC account. If you do not wish to reference your company name when setting up your TCC account we recommend you use 'EDUCALC' as reference.
Should you encounter any issues in setting up your TCC account please ensure that you raise this directly with Citrix in advance of your event by visiting Citrix.com then on the home page click, Help, then select Classroom Support, and submit a Critical or High priority request notifying Citrix of the course start date.
Who should attend
Students interested in migrating to the Citrix Cloud and XenApp and XenDesktop Service including:
Partners
Administrators
Engineers
Architects
Course Objectives
Describe the architecture and communications of the Citrix Cloud
Understand the differences between XenApp and XenDesktop on-premises and the XenApp and XenDesktop Service
Describe the services and resources available through Citrix Cloud
Install, configure, and manage Citrix Cloud Connectors
Deliver app and desktop resources to on-premises resource locations
Understand considerations for StoreFront and NetScaler Gateway locations with Citrix Cloud
Migrate existing on-premises XenApp and XenDesktop infrastructure to the Citrix Cloud
Understand considerations for migrating resources to a public cloud
Classroom Training
Duration 3 days
Price
(excl. VAT)
United Kingdom:

£ 2,219.-
Online Training
Duration 3 days
Price
(excl. VAT)
United Kingdom:

£ 2,219.-