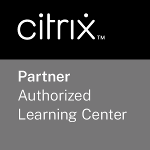 Citrix Virtual Apps and Desktops 7.x Help Desk Support (CXD-105)
Course Overview
Learn to support end-users accessing virtual apps and desktops as part of a Citrix solution. In this course, you will learn to use Citrix Director to interact with user sessions and to capture information for solving issues or escalating to the administration team. Gain foundational knowledge about the Citrix Virtual Apps and Desktops technology and an understanding of how components interact. You will learn about each component focusing on common user related issues that may arise, and how to apply a methodical approach to solve them using real world scenarios. By the end of the course, you will be able to solve or escalate end-user issues appropriately.
Citrix course materials are only available to delegates in e-courseware format. Delegates will be provided with instructions on how to access their e-courseware on day one of the event. Those delegates who are attending via virtual classroom will be required to provide either three monitors (to view courseware, labs and instructor demos simultaneously) or two monitors and a mobile device.
Delegates will be required to have an active TCC (Training.Citrix.com) account in order to access course materials and labs. Please set up Your TCC account up in advance of the course using the following link - Citrix.com
Please note: It is highly recommended that the delegate uses a personal email address (rather than company email) to set up their TCC account. If you do not wish to reference your company name when setting up your TCC account we recommend you use 'EDUCALC' as reference.
Should you encounter any issues in setting up your TCC account please ensure that you raise this directly with Citrix in advance of your event by visiting Citrix.com then on the home page click, Help, then select Classroom Support, and submit a Critical or High priority request notifying Citrix of the course start date.
Who should attend
This course is intended for helpdesk representatives that support XenApp and XenDesktop 7.x users.
Prerequisites
An understanding of server, desktop and application virtualization concepts.
Take the free CXD-102 Introduction to Citrix XenDesktop 7 eLearning course.
Take the free CXA-104 Citrix XenApp 7.6: Overview eLearning course.
Course Objectives
Learners are able to complete the following after successful completion of course:
Complete helpdesk tickets thoroughly with the appropriate documentation.
Troubleshoot and resolve XenApp and XenDesktop issues within their scope in a timely manner.
Escalate issues that are out of scope to the appropriate team/individual.
Think strategically and use the proper consoles during troubleshooting to quickly determine the root cause of a problem.
Online Training
Duration 2 days
Classroom Training
Duration 2 days
Price
(excl. VAT)
United Kingdom:

£ 1,740.—
E-Learning
Duration 90 days
Buy E-Learning
Currently there are no training dates scheduled for this course.