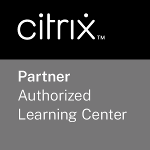 Citrix (NetScaler) ADC 12.x Advanced Concepts - Security, Management, and Optimization (CNS-320)
Course Overview
Learn how to configure your Citrix networking environment to address application services security requirements with Citrix Web App Firewall; automate and manage network services for scale-out of application architectures with Citrix Application Delivery Management; and optimize Citrix ADC-managed application delivery traffic. This five day course for experienced Citrix networking architects, engineers and administrators will teach you to deploy and manage Web App Firewall to protect web applications against different types of attacks. It will also give you a practical understanding of Citrix Application Delivery Management capabilities for centralized management of multiple itrix ADC platforms, Corchestration of changes, transaction reporting, Infrastructure visualization and planning.
Versions covered
This course is currently on Citrix ADC version 12.x, but still applies to previous versions.
Special Notices
Please note: Effective August 3rd 2018 this course has been renamed from 'Citrix NetScaler 12.x Advanced Topics - Security, Management,and Optimization' to 'Citrix ADC Advanced Concepts - Security, Management and Optimization'. Course content remains the same.
Who should attend
Students interested in learning the skills required to deploy and manage Citrix Web App Firewall to secure application access in their Citrix Networking environment, as well as Citrix Application Delivery Management to administer a Citrix Networking environment, or optimize Citrix ADC - managed application delivery traffic. Specifically for administrators, implementers, engineers, and architects.
Prerequisites
Citrix recommends students prepare for this course by taking the following course/courses:
Or
Course Objectives
You will learn to:
Identify common web attacks and vulnerabilities
Write PERL compatible regular expressions
Understand how to operate the adaptive learning engine
Configure Citrix Web App Firewall to protect web applications
Utilize ADC 12.x Secure Insight to monitor, manage, and report on Application Services security
Comments
All Citrix courses that align to certification come with a "free" exam voucher. Delegates attending Citrix courses must have a Citrix TCC (training.citrix.com) account, this is where you access your e-courseware and labs. On completion of the course Citrix will automatically provision the delegate's TCC account with an electronic Pearson Vue exam voucher which is valid for 12 months from point of issue.
Classroom Training
Duration 5 days
Price
(excl. VAT)
United Kingdom:

£ 2,993.-