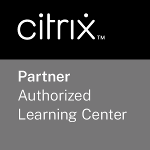 Citrix (NetScaler) ADC 12.x Essentials and Citrix Gateway (CNS-222)
Course Overview
Expand your Citrix networking knowledge and skills by enrolling in this five-day course. It covers Citrix ADC essentials, including secure load balancing, high availability and operations management, and also focuses on Citrix Gateway. You will learn to deliver secure remote access to apps and desktops integrating Citrix Virtual Apps and Citrix Desktops with Citrix Gateway. This course is best suited for IT professionals, with little or no previous Citrix networking experience, who will be deploying or managing Citrix ADC, or Citrix Gateway environments.
Versions covered
This course is currently on Citrix ADC version 12.x, but still applies to previous versions.
Special Notices
Please note: Effective August 3rd 2018 this course has been renamed from 'Citrix NetScaler 12.x Essentials and Unified Gateway' to 'Citrix ADC Essentials and Citrix Gateway'. Course content remains the same.
Who should attend
Built for IT Professionals working with Citrix ADC and Gateway, with little or no previous Citrix networking experience. Potential students include administrators, engineers, and architects interested in learning how to deploy or manage Citrix ADC or Citrix Gateway environments.
Prerequisites
Basic networking experience
Experience using TCP/IP, HTTP protocols, and the OSI model
Knowledge of server load balancing and content switching concepts
Familiarity with Web server software
Familiarity with DNS, SSL, and compression concepts
Knowledge of network security threats and site protection concepts
Course Objectives
You will learn to:
Identify the functionality and capabilities of Citrix ADC and Citrix Gateway
Explain basic Citrix ADC and Gateway network architecture
Identify the steps and components to secure Citrix ADC
Configure Authentication, Authorization, and Auditing
Integrate Citrix Gateway with Citrix Virtual Apps, Citrix Virtual Desktops and other Citrix components
Comments
All Citrix courses that align to certification come with a "free" exam voucher. Delegates attending Citrix courses must have a Citrix TCC (training.citrix.com) account, this is where you access your e-courseware and labs. On completion of the course Citrix will automatically provision the delegate's TCC account with an electronic Pearson Vue exam voucher which is valid for 12 months from point of issue.
Online Training
Duration 5 days
Classroom Training
Duration 5 days
Price
(excl. VAT)
United Kingdom:

£ 2,995.—
E-Learning
Duration 90 days
Buy E-Learning
Currently there are no training dates scheduled for this course.