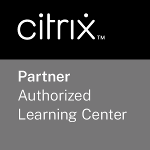 Citrix (NetScaler) Gateway 12.x (CNS-221)
Course Overview
Learn the skills required to configure and manage Citrix Gateway features. At the end of the course, students will be able to configure their Citrix Gateway environments to address remote access requirements for Apps and Desktops.
Special Notices
Please note: Effective August 3rd 2018 this course has been renamed from 'Citrix NetScaler Unified Gateway' to 'Citrix Gateway'. Course content remains the same.
Citrix course materials are only available to delegates in e-courseware format. Delegates will be provided with instructions on how to access their e-courseware on day one of the event. Those delegates who are attending via virtual classroom will be required to provide either three monitors (to view courseware, labs and instructor demos simultaneously) or two monitors and a mobile device.
Delegates will be required to have an active TCC (Training.Citrix.com) account in order to access course materials and labs. Please set up Your TCC account up in advance of the course using the following link - Citrix.com
Please note: It is highly recommended that the delegate uses a personal email address (rather than company email) to set up their TCC account. If you do not wish to reference your company name when setting up your TCC account we recommend you use 'EDUCALC' as reference.
Should you encounter any issues in setting up your TCC account please ensure that you raise this directly with Citrix in advance of your event by visiting Citrix.com then on the home page click, Help, then select Classroom Support, and submit a Critical or High priority request notifying Citrix of the course start date.
Who should attend
Administrators
Implementers / Engineers
Architects
Prerequisites
Citrix requires students prepare for this course by completing the following course:
Should also have a basic understanding of the following concepts and technologies before attending the class:
Basic Networking
Windows and Linux Server administration
Experience with Citrix virtualization technologies, such as XenDesktop and XenApp
Experience with Microsoft SQL Server or enterprise database servers
Experience with Active Directory and Group Policy
Basic understanding of Microsoft Remote Desktop Services
Basic understanding of VPN concepts, including SSL encryption and certificates
Course Objectives
Configure Authentication and Authorization
Define End User Access and Experience
Integrate NetScaler Gateway with XenApp and XenDesktop
Integrate Unified Gateway with additional resources
Employ recommended tools and techniques to troubleshoot common NetScaler Gateway network and connectivity issues
Course Content
Designed for students who will be deploying or managing NetScaler Gateway, or Unified Gateway environments. Learn the skills required to configure and manage NetScaler Gateway and Unified Gateway features, including how to implement Gateway components including NetScaler Gateway and Unified Gateway.
Classroom Training
Duration 2 days
Price
(excl. VAT)
United Kingdom:

£ 1,865.-
Online Training
Duration 2 days
Price
(excl. VAT)
United Kingdom:

£ 1,865.-