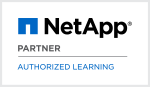 NetApp Certified Data Administrator, Data ONTAP 7-Mode (NCDA 7-MODE)
NetApp Certified Data Administrators have proven skills in performing in-depth support, administrative functions, and performance management for NetApp storage controllers running the Data ONTAP® operating system in NFS and Windows® (CIFS) multiprotocol environments. They are able to implement high availability controller configurations. They also have detailed knowledge of SnapMirror®, SnapRestore®, and SnapVault®, which they use to manage and protect mission-critical data.
Prerequisites
Candidates for NCDA certification should have at least 6-12 months of field experience implementing and administering NetApp storage solutions in multiprotocol environments. Additionally, candidates taking the NetApp Certified Clustered Data ONTAP Administrator exam should know how to implement HA controller configurations, SyncMirror for rapid data recovery, or clustered Data ONTAP solutions with either single- or multi-node configurations.
Recommended training for this certification
Data ONTAP 7-Mode Fundamentals (WBT)
Architecture, Configuration, and Implementation of Flash Pool WBT
Take the practice test for this exam

Exams
NS0-155 NetApp Certified 7-Mode Data Administrator
Special offer