Symantec Training Credits

What are Training Credits?
The program works like a debit card, you purchase as many credits as you need in a single transaction then use those credits within one year for any Symantec Education Services offering.

Benefits:
Flexibility - Credits can be redeemed for all Education Services offerings, including classroom, onsite, virtual, self-paced training, and certification.
Organisation-wide redemption — Credits can be used by anyone within the organisation on any product.
Savings — Progressive discounts based on volume of training credits purchased.
Single transaction — You minimise the amount of purchase transactions throughout the year.

Credits/Discounts:
The more training credits you purchase, the higher the discount. Credits/discounts are as follows: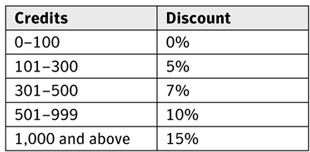 1-11 Credits = £50
101-300 Credits = £47.50
301-500 Credits = £46.50
501-999 Credits = £45.00
100+ Credits = £42.50
How to Purchase & Redeem:
Education Credits are available at five price points with progressive discounts. You simply purchase the amount of credits required to cover your organisation's training needs. Purchase credits in increments as low as a single credit through as many credits as desired.
Pre-purchase training credits for classroom and self-paced offerings and save between 5 and 15 percent depending on the amount purchased. Training Credits are ideal for organisations or individuals who want to purchase training credits up front and enrol when they identify a training need.
How do Credits Work?
1. Find your course: Symantec Courses offered by Fast Lane
2. Select the course(s) of your choice
3. Contact our Clients Solutions team on 0845 470 1000 or email enquiries@flane.co.uk