Corporate or Group Training
Without a highly-trained IT staff, business can't happen. In today's technology-heavy environments, it's important to partner with an IT training company you can trust.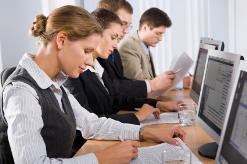 Fast Lane is committed to delivering the highest-quality corporate or group training on a variety of technologies such as Cisco, NetApp, Symantec, VMware and more. We specialize in creating a custom training program that fits the specific needs of your business environment. Businesses around the world have trusted Fast Lane to deliver leading-edge Authorized Vendor courses that prepare their IT staff for real-world situations.
Whether at your office or a local training center, our Instructor-Led On-site training offers the advantages businesses need to succeed. To learn more about what Fast Lane can offer your IT professionals, please contact us at +44 (0)845 470 1000 or email enquiries@flane.co.uk
Benefits of Corporate or Group Training:
Comfortable learning environments in the location of your choosing
Personal interaction with colleagues and instructors that creates a collaborative learning environment custom-tailored to your unique business demands
State-of-the-Art equipment available and best-in-class technologies available for each student's use
Lab exercises that simulate real-world technical issues providing students hands-on troubleshooting experience
Book a Corporate or Group Course:
View the upcoming course schedule, please contact us at +44 (0)845 470 1000 or Email enquiries@flane.co.uk form to request additional information regarding specific courses not currently listed.
Available Courses by Vendor:


Cisco: Fast Lane is a recognized Cisco Learning Solutions Partner offering a complete catalog of courses in standard and advanced Cisco technologies.


NetApp: Fast Lane is NetApp's only worldwide Authorized Learning Partner offering standard and customized on-site courses on all NetApp technologies.



Symantec: Fast Lane is an Authorized Reseller training partner offering all beginning and advanced courses.



VMware: Fast Lane, in conjunction with QA, offer VMware training, helping you to develop your skills within the Visualization space. VMware offer world-class certifications designed to validate and recognize IT professionals with the technical capabilities and real-world experience needed to effectively install, manage, deploy and support VMware products and solutions.